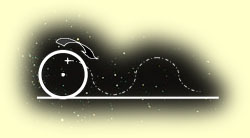 Particle motion in classical mechanics is invariant under the Galilean (or Lorentz) group. Just as the Hamiltonian is the generator of time evolution, and depends on dynamical variables by Poisson brackets, the relativistic invariance should also be implemented by Poisson brackets with the ten generators of space translation, time evolution, rotations, and boosts. These constitute a Lie algebra with the Poisson bracket as the Lie bracket. The generalization of Lorentz contraction and time dilation may be seen as special cases of the effect of boosts on many parameters. (These are described in the book "Classical Dynamics" by Sudarshan and Mukunda). Rigid Lorentz invariance imposed on a multiparticle system implies that there can be no interaction. This "No Interaction Theorem" was discovered by Currie, Jordan, and Sudarshan and further extended by H. Leutwyler and by G. Marmo to multiparticle systems.

A way out of this is to define time itself via manifestly invariant constraints. Mukunda and Sudarshan carried this out for simple systems. It can be put into a very general form by a method developed by Sudarshan and others.

The same invariances and Lie algebra arise in quantum theory in which the commutator is used for constructing the Lie brackets.

In quantum mechanics there are very important internal symmetries like the isotopic spin. These symmetries are broken by specific symmetry breaking. The general theorem on the sum rules for this was formulated by Marshak, Okubo, and Sudarshan.

There are many other applications of symmetry groups to particle decays and other reactions. The first application of symmetry groups to obtain sum rules was made by Marshak, Okubo, and Sudarshan. Other applications of group theoretic methods led to the discovery of relations between the magnetic moments of the "sigma" particles and the transition moments of the "sigma and lambda" particles.

Another fruitful field for group theory is the theory of optical instruments. Sudarshan with Mukunda and Simon has worked out the theory of coaxial thin lenses and showed them to be governed by the symmetry group Sp(2,R) or Sp(4,R) depending on whether the lenses are rotationally invariant or not.